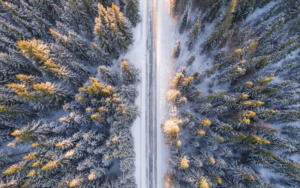 If you want a bit of color, uniqueness, and typographical creativity in your Christmas cards and designs, there are many fonts ready for use online. We have made it easier for you to find these fonts by bringing a list of such fonts. Spice up your creative projects and stand out among the competitors this December. Let's add some Christmas flavor in your design with the following 13 free Christmas fonts.
1. Beyond Wonderland
The top spot in the list is occupied by "Beyond Wonderland", a brainchild of the Chris Hanson. Hanson is one of the most well-known names in the font hobbyist community. It can be utilized free of cost whether you are using it for personal or commercial use. The only limitation is the inability to work with accented vowels, but it has quite a dark theme and it would add a unique touch to your designs.
Looking to make your rough fonts more stylish and amazing, try Fontalic NOW

2. One Starry Night
It is a colorful font created by Brittney Murphy Designs. Starry Night is available without any charges for personal and non-profit use. Basically, it is a handwritten font which is a bit swirly. It would definitely add a flare to your designs and if you want to avail it commercially you've got to pay $5.
3. Santa's Sleigh
Santa's Sleigh is an ideal font for anybody who wants to add a vintage feel to their designs. It is a creation of HypoTypo and you would find it in regular, bold, and deluxe weights.
4. Metro Retro NF
Nick's Fonts have hit the ball out of the park when it comes to dramatic sans serif with their Metro Retro NF font. Spark festivity in your design with a font that is perfect for a headline.
You would only be able to play with thee uppercase letters using a free version. Metro Retro Redux (the paid version) contains the Adobe character set and the lowercase letters. Metro Retro Redux creators took inspiration from the famous Wadsworth A. Parker's Modernistic)
5. Rothenburg Decorative
Rothenburg Decorative is an effort by the calligrapher Dieter Steffmann and it is inspired from a dark Gothic theme. If you would like to add a dark style of script in your Christmas project design, you definitely need this font. Whether you are using it for personal or commercial purposes, it wouldn't cost you a penny so why not go for it?
6. Christmas On Crack
If you are not into the darker and heavy fonts like Rothenburg Decorative, Christmas On Crack can be a perfect choice for you. It is created by David Lovelace, famously recognized by the name Parallax. It has more of a fun vibe to it although it also revolves around the Gothic theme. It doesn't matter whether you are using a Mac or a PC because it's available for both.
7. Christmas/Flakes Font
The 7th spot in our list of the best 13 free Christmas fonts belong to Christmas/Flakes Font. It is a creation of Randy Ford from Florida and it's basically an ornamental typeface. Make your headlines much more prominent for the readers without paying any price for personal or commercial use. It is available for both PC and Mac users.
8. Channel
Channel is a gift from Sweden created by Mans Greback and published through Aring Typeface foundry and it is a classic script with a handwritten feel. If you want to avail the complete 365-glyph font for commercial use you have to pay $589. You can also utilize the demo version for free in case you need it for your personal Christmas project.
9. Candy Cane
The Candy Cane font is a festive one developed by Michel Bujardet. It is a font that is associated in its core with the Christmas celebrations and you can use it without paying anything. You've got the freedom of using uppercase, lowercase, numbers, and punctuation.
10. Sentinel
The 10th spot in our list of best Christmas Fonts for free goes to Sentinel. The creator of this amazing font is Dieter Steffmann and the font contain 52 ornamental characters. You can use it without putting any burden on your pocket and it is ideal for creative Christmas designs.
11. Holly Nites
Holy Nites font is another marvelous creation of Jester Font Studio. It is a heavy 3D font with a holly leaf pattern giving the characters a unique appearance. If you are designing a Christmas card, this is the font for you this year and another good news, it's free for commercial and non-commercial use.
12. ChopinScript
The second last spot on the list goes to ChopinScript which is based on the theme of the original Phil Martin's Polonaise. The font was released back in 1999 and it's just an improved version. It is free for personal and commercial use. You would be able to enjoy accented characters along with ornaments in this particular font.
13. The Gingerbread House
We've got to give the due credit to Chris Hanson here for giving the world a number of amazing fonts. The last font we would be talking about in this article is also a creation of this marvelous designer. The Gingerbread House involves decorative style with a pinch of Burton adding to its beauty. Just remember you won't be able to use the digit '4' which could create a few difficulties in certain situations. Apart from that, it's suitable like any other font for a Christmas design.
RELATED